A brief introduction about Ibtekr
Ibtekr is the first specialized platform addressing government innovation in the Arab world.
His Highness Sheikh Mohammed bin Rashid Al Maktoum, Vice President and Prime Minister of the UAE and Ruler of Dubai, launched Ibtekr platform to spread the application of government innovation, adopted in the United Arab Emirates, across the world. The platform aims to establish the culture of innovation and make it an integral part of governments mission, which will lead to building a generation of Arab innovators and future leaders. Ibtekr reflects the UAE government commitment to invest in people, build their capabilities and encourage them to develop, innovate, and contribute to establishing effective business models and solutions to face future challenges.
The Mohammed Bin Rashid Centre for Government Innovation
The Mohammed Bin Rashid Centre for Government Innovation was established to stimulate and enrich the culture of innovation within the government sector through the development of an integrated innovation framework. The goal is for innovation to become one of the key pillars of the UAE government in line with the vision of H.H. Sheikh Mohammed Bin Rashid AlMaktoum, Vice President and Prime Minister of the UAE and Ruler of Dubai, which aims to develop government operations and enhance the UAE's competitiveness, making it one of the most innovative governments worldwide.
Ibtekr platform is one of the initiatives of the Mohammed Bin Rashid Center for Government Innovation.
To be the first Arabic-speaking platform that supports innovation in Arab governments.
To build a better future for the Arab world through cooperation with international and regional partners and by establishing a network of Arab government innovators to create and select the best tools and knowledge to enable government innovation, shed lights on creative ideas, raise awareness and build capabilities in the region.
Strategic goals of Ibtekr
An integrated digital platform for training and promoting government innovation
All segments of society can register for the Mohammed Bin Rashid Center for Government Innovation programs through the platform. These programs cater to a wide range of interests, including a diploma in government innovation, specialized workshops, innovation dialogue sessions and a community forum for innovators that brings together innovation experts with chief innovation officers in government agencies.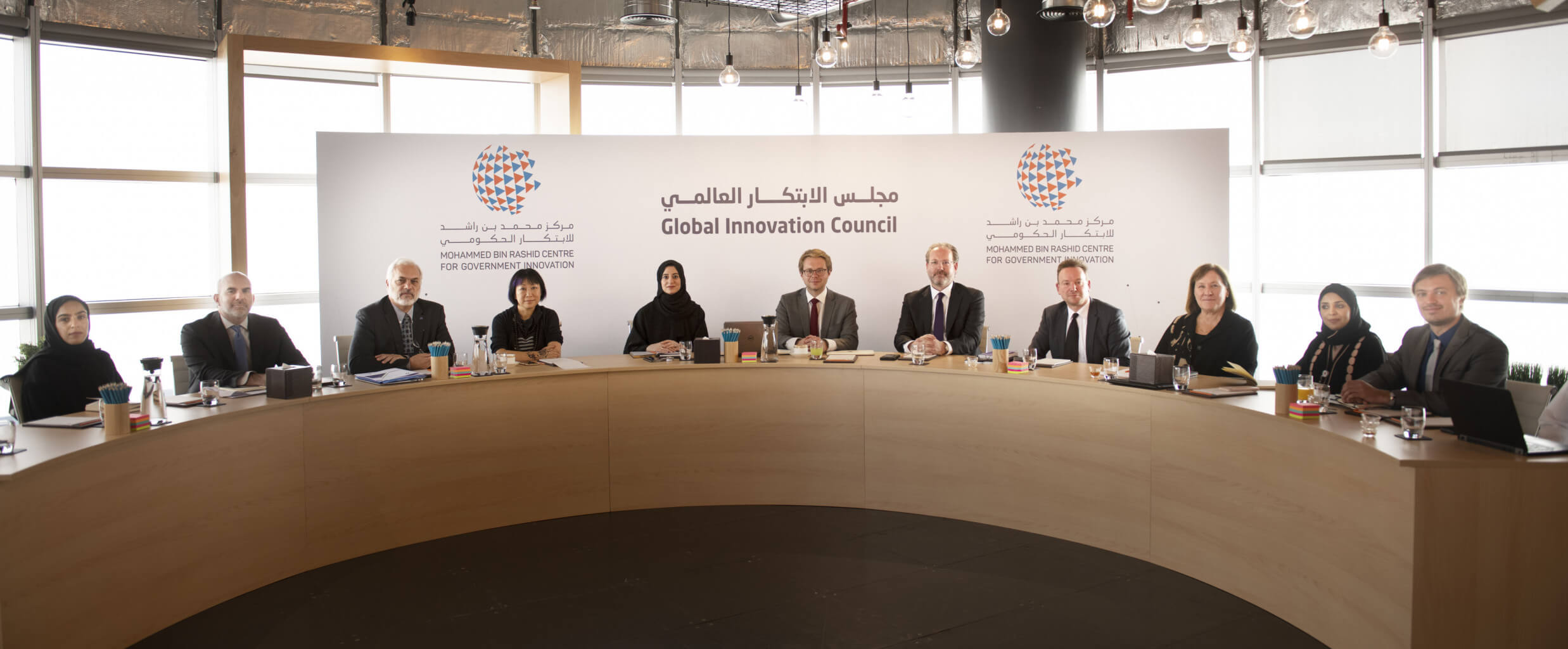 Global Innovation Council
The Mohammed bin Rashid Center for Government Innovation launched the Global Innovation Council to enhance government innovation and develop an innovative environment for developing effective solutions to the challenges of future governments. The Global Innovation Council aims to engage in the co-creation of globally relevant innovation policies, convey the UAE's capability to become a global thought leader and lab for experiments, and build on the global efforts of innovation practitioners and focus on what is next in Government Innovation. The Global Innovation Council includes 9 members: Her Excellency Huda Al Hashimi, Chief of Strategy and Government Innovation – UAE Government , Juha Leppänen, Chief Executive of Demos Helsinki, Mariana Mazzucato, Chair in the Economics of Innovation and Public Value at University College London (UCL), Marcos Benturi, Director of Public Governance at the OECD, Else Treurnicht, Former CEO of MaRs Discovery District, Jorrit de Jong, Senior Lecturer in Public Policy and Management at Harvard Kennedy School, Paul Bennet, Chief Creative Officer of IDEO, Ping Fu, American Business Executive and Author, and Geoff Mulgan, CEO of the Nesta Foundation for Global Innovation.